Full Dentures
What is it?
Are you missing most or all of your teeth due to an issue like severe periodontal (gum) disease, tooth decay, or a dental injury? Full arch dentures from My Dental Club can give you your smile back. Dentures are both functional and aesthetically pleasing. So you can replace missing teeth and speak, eat, and smile with confidence again. They are an affordable, efficient way to restore your smile after tooth loss. Our team will take care of you throughout the entire process.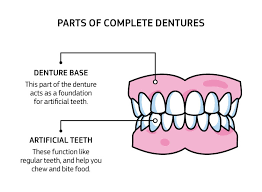 Complete Dentures
Who is it for?
Full arch dentures are typically recommended for patients who have lost most or all of their teeth, or are at risk of losing them. Your candidacy for full arch dentures depends on your oral health and the cause of your tooth loss. The best way to determine if this option is right for you is to schedule a consultation with one of our dentists. We will assess your teeth and gums thoroughly, offer honest advice and guidance, and explain each of your restorative options, including full arch dentures.
Full Dentures
How is it done?
The first step in treatment is to prepare your mouth for full arch dentures. This means that we remove any unhealthy remaining teeth. We then take dental impressions and photos once you are fully healed. Our dentist will work with an outside lab to create your custom dentures. Once we receive your permanent restoration, you'll come in for your last appointment. We will ensure that the dentures fit perfectly in your mouth. Before you leave, we'll discuss how to wear your dentures and care for them properly.
After Care
After you receive your permanent dentures at My Dental Club your dentist will provide you with a set of instructions on denture care.
‍
You'll need to remove and rinse your dentures every time you eat, and rinse your mouth or brush your gums. This helps eliminate the buildup of food particles. In turn, this minimizes the growth of oral bacteria that can cause gum disease and other such issues.
You will also need to thoroughly brush your gums and your dentures every night. Additionally, fluoride toothpaste to clean your gums and remaining natural teeth (if applicable). You should use a separate toothbrush and a denture cleaner to clean your dentures since abrasive toothpaste can wear down your dentures.
‍
What not to do
Dentures are also typically not worn overnight, because this can encourage the growth of microorganisms like bacteria and fungus, and lead to oral health issues. Because of this, you will soak your dentures in water or a special denture cleanser. Keeping the dentures moist stops them from warping, which can ruin their fit.
‍
For more information about denture care, simply consult with your doctor at My Dental Club after you receive your temporary or full dentures, and you'll get all the instructions you need to keep your dentures in great condition.
Expectations for complete or full dentures
With proper care, you can expect your new set of dentures to last between 5-7 years. Over time, wear & tear can cause your dentures to wear out. They may stop fitting properly due to changes in your facial structure after tooth loss.
‍
You may begin to feel like your dentures won't stay in place. They may cause sore spots on your gums, or you have any other problems with your dentures. You should see your dentist at My Dental Club. It may be time to have a new set of dentures fitted to ensure you can continue to eat, speak, and smile with confidence.
Book a visit to My Dental Club, simply fill out the form and we will contact you back regarding the intervention you require.